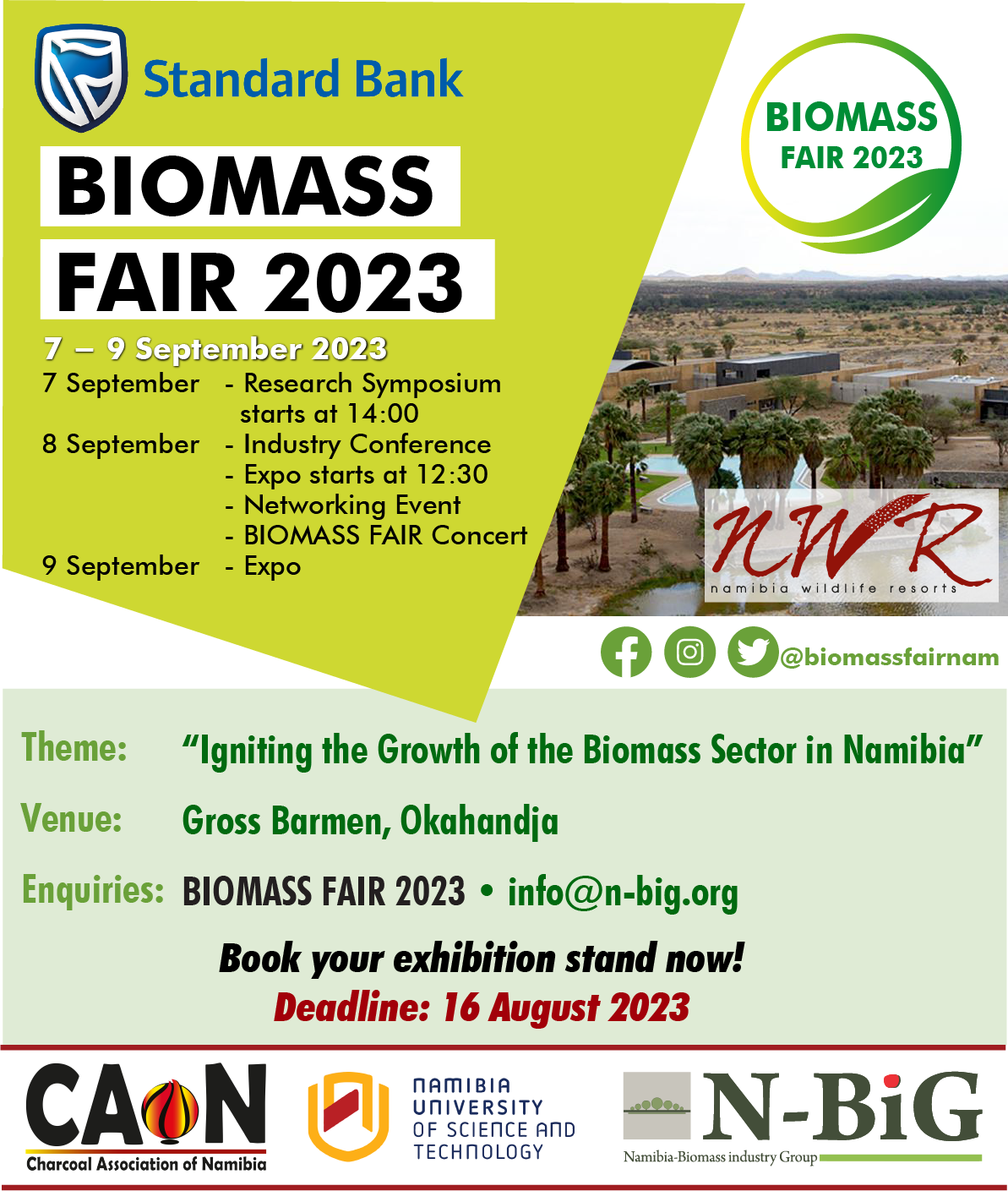 Windhoek, Namibia – September 04, 2023 – Namibia Wildlife Resorts (NWR) would like to announce its readiness to host local and international exhibitors at the Standard Bank BIOMASS FAIR 2023, set to be held at Gross Barmen resort from the 7th to the 9th of September 2023.
The trust placed in NWR to host such a significant event has filled us with excitement and and shows the organiser's confidence in our brand. With 65 exhibitors lined up, this fair promises to be an outstanding platform for showcasing innovation and industry excellence. NWR is particularly delighted about the local vendors who stand to benefit significantly from this exposure.
Mr Nelson Ashipala, Manager for Corporate Communications at NWR, commented on the magnitude of the event, saying, "The Standard Bank BIOMASS FAIR 2023 is so monumental that we've had to bring in additional staff from outside to ensure everything runs smoothly. We are fully equipped and prepared to deliver a memorable experience for all. It will be our first time to hold an event of this magnitude, so one can just imagine the adrenaline but also the excitement."
"The exhibiton area has been set up, grounds prepared, and extra staff members have been brought in, so we are ready" he added. The Standard Bank BIOMASS FAIR 2023 promises a diverse program featuring an exhibition, symposium, and a music concert scheduled for the 8th of September. Unfortunately, the popularity of this event has led to Gross Barmen being fully booked out over the days of the event, but we extend a warm invitation to day visitors to come and enjoy the festivities
About the BIOMASS FAIR
Implemented by partners, the Namibia Biomass Industry Group (N-BiG), the Charcoal Association of Namibia (CAoN), formerly known as Namibia Charcoal Association (NCA), and the Namibia University of Science and Technology (NUST), the BIOMASS FAIR is an event tailored toward the blossoming bush biomass sector in Namibia and the region at large. By bringing together stakeholders of the growing biomass sector, the industry is strengthened, and new opportunities can be explored. The annual fair provides an excellent opportunity for networking and exchanging of best practices and knowledge on bush control and biomass utilisation. The BIOMASS FAIR takes place over three days, including a Research Symposium, a Biomass Industry Conference, and a Biomass Expo showcasing technology and field demonstrations. Each specific event is targeted and has a specific purpose, with the overall aim of formalising and promoting the budding biomass industry in Namibia.